Recently my 12 year old Samsung series-7 local dimming LED failed. Which was a pity, because of it's very good image quality (back in the days). So, time for a something new, which isn't worse given it's age.
I had set my mind sometime already on an LG OLED TV, due to it's incredible image quality and (HDMI 2.1) features like, HDR (incl. Dolby Vision), ALLM, VRR, 120Hz refresh, film maker mode, eARC and those kind of features to be future proof.
At a local electronics shop I purchased a color calibrated LG BX6 55″ OLED TV (OLED55BX6LB).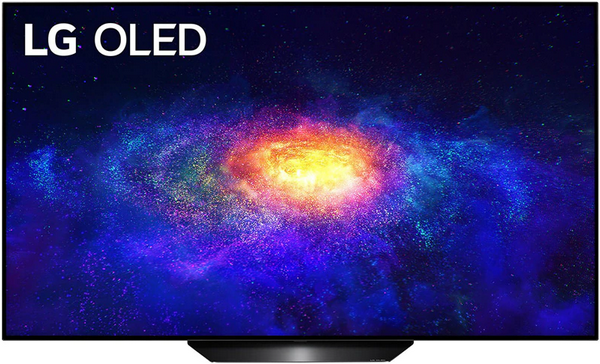 The shop configured 2 additional calibrated image profiles in the TV. Check out the profiles section for the exact settings. One profile was added for bright and one profile for darker rooms. The dark profile clearly is my favorite, because it highlights everything that an OLED TV stands for; pitch black dark and vivid colors.
Why this post
Most people don't have gear to calibrate their TV, so sharing the exact configuration can benefit others. Hopefully the information in my post helps you configuring your own OLED TV, so everyone can enjoy the insane image quality.
I must say that I was blown away, compared to my previous TV, that already had decent image quality due to it's full array local dimming feature. Especially 4K Dolby Vision enabled HDR series like "Our Planet" (Netflix) or light saber scenes from "The Mandalorian" (Disney+) are so much fun to watch.
LG is the only manufactures of OLED display panels, the settings can probably be used for other brand / models also. I'm almost certain you can use the settings below as a good baseline for all the 2020 LG OLED models, but test and see for yourself.
The calibration gear
If you previously read posts on my blog, you're probably a techie like me and can appreciate a bit more background to the matter. Based on the calibration report, the gear below was used for calibration.
The shop used "Portrait display" products:
Software: Calman Video Pro
Calman Video Pro is the essential tool to drive business for calibrators and AV integrators. With this software, professionals can easily differentiate themselves from the competition in terms of color accuracy and quality assurance.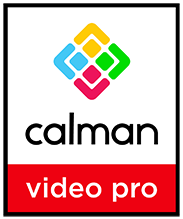 Pattern generator: Portrait Displays VideoForge Pro
The compact, hand-held Portrait Displays VideoForge PRO outputs highly accurate, reference-level 4k HDR video test patterns via HDMI. Dynamically generate any color patch requested by Calman on the fly, including grayscale, gamut, saturation sweeps, and 3D LUT calibration patches.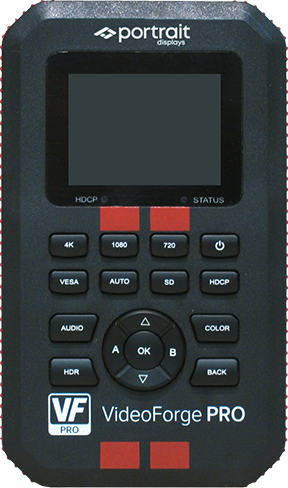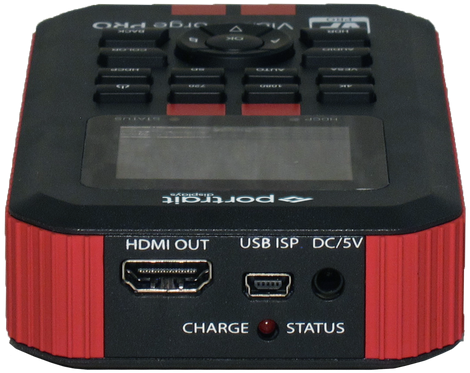 Meter: Portrait Displays C6 HDR2000
The Portrait Displays C6 HDR2000 Colorimeter is one of the most advanced light measurement devices available on the market. With its ability to provide accurate readings for the most demanding calibrations, wide range of support for display technologies, and field-upgradable capability, the C6 HDR2000 is the clear choice for your next colorimeter.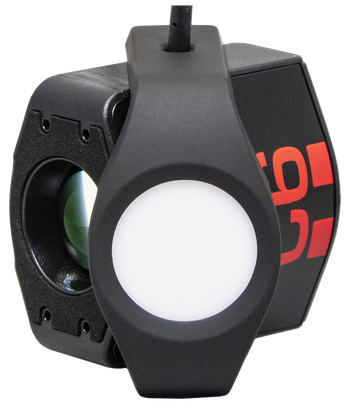 Image Profiles
The shop created 2 new calibrated image profiles on the TV. The exact settings can be found in the table below.
Meter Mode: OLED (White) – LG, Panasonic
Setting
Pre Calibration
Extra
Profile 1
Extra Profile 2
(My favorite)
Picture Mode
Eco
(Default)
isf Expert (Bright Room)
isf Expert (Dark Room)
Energy Saving
Auto
Off
Off
OLED Light
Energy Saving
90
60
Contrast
100
90
85
Brightness
50
62
50
Sharpness
25
10
10
Colour
60
46
50
Tint
0
0
0
Dynamic Contrast
Low
Off
Off
Dynamic Colour
Low
–
–
Color Gamut
Wide
Extended
Automatic
Super Resolution
Medium
Off
Off
Gamma
High1
2.4
BT.1886
White Balance
Colour Temp.
C 20
Warm2
Warm2
Method
–
2 Points
2 Points
High: Red / Green / Blue
–
0 / 0 / 2
0 / 0 / 0
Low: Red / Green / Blue
–
1 / 0 / 0
0 / 0 / 0
Colour: Saturation / Tint / Luminance
Red
–
0 / 0 / 0
0 / 0 / 0
Green
–
0 / 0 / 0
0 / 0 / 0
Blue
–
0 / 0 / 0
0 / 0 / 0
Cyan
–
0 / 0 / 0
0 / 0 / 0
Magenta
–
0 / 0 / 0
0 / 0 / 0
Yellow
–
0 / 0 / 0
0 / 0 / 0
Peak Brightness
Off
Off
Off
Noise Reduction
Low
Off
Off
MPEG Noise Reduction
Low
Off
Off
Smooth Gradation
Low
Off
Off
Black Level
Low
Automatic
Automatic
Real Cinema
On
On
On
Motion Eye Care
On
Off
Off
Trumotion
Natural
Off
User
De-Judder
–
–
0
De-Blur
–
–
10
OLED Motion Pro
–
–
Off
Eye Comfort Mode
Off
Off
Off
Filmmaker Mode
Off
Off
Off
Calman Calibration Report
Calibration reports
The pre and post calibration reports can be found below. Both reports show the greyscale and primary / secondary color measurements before and after the calibration. In general a Delta E2000 (dE) deviation of 3 or less is considered not visible.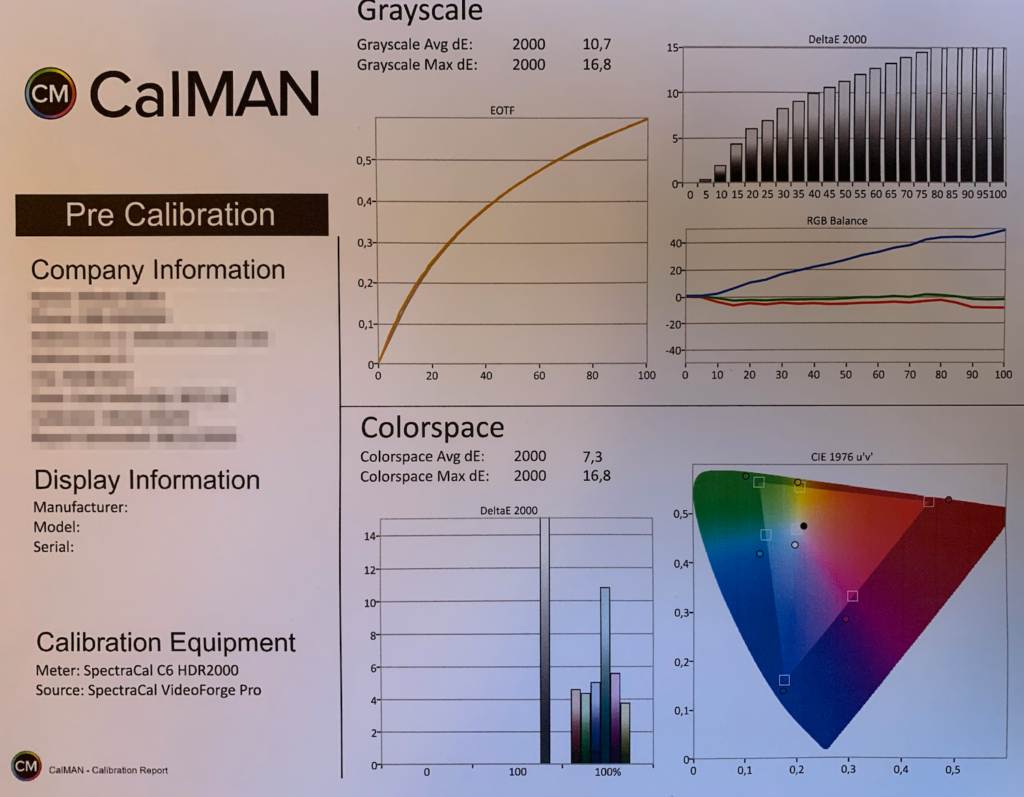 The pre calibration measurements show an average dE 2000 deviation of 10,7 for greyscale and 7,3 for colorspace. These are both way off and probably due to the preselected "Eco" image profile.
Remarkable is also the imbalance for blue, which the "RGB Balance" chart shows clearly. Secondly, the colorspace bar diagram shows that "Cyan" is imbalanced also.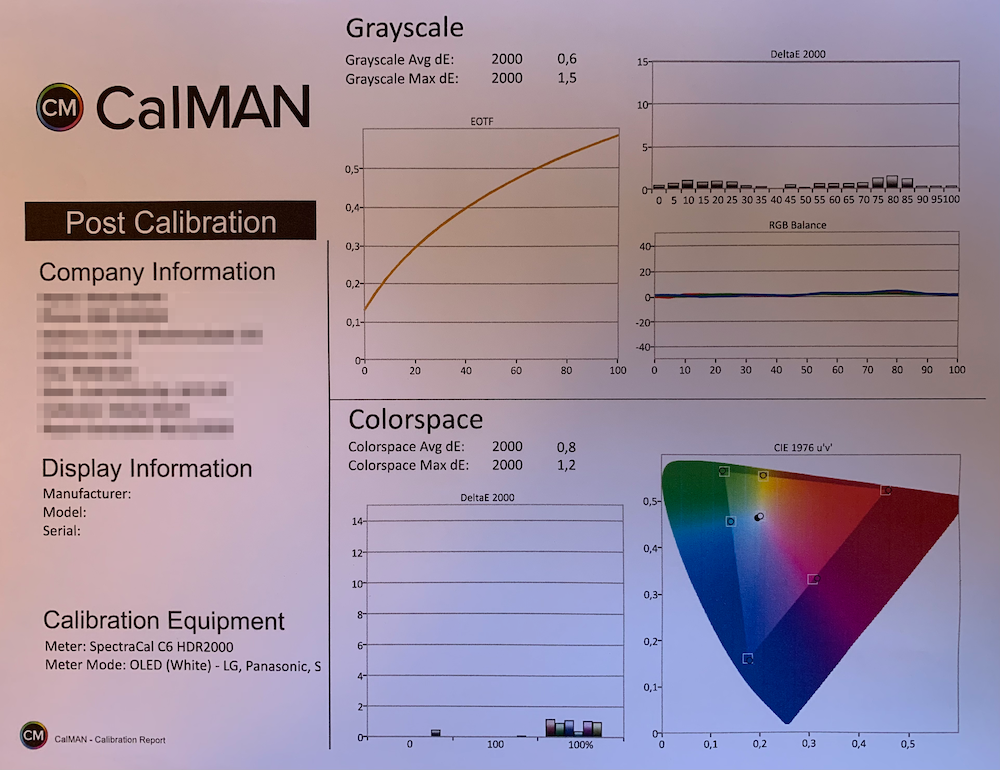 After calibration the average dE 2000 deviation is clearly below 3, with values of 0,6 and 0,8 respectively. Also the colorspace imbalance is gone.
To conclude
By using the image profile settings in this post, you hopefully can enjoy your OLED TV to max. The mentioned settings are probably a good baseline for all 2020 LG OLED models. For older LG models or models from other manufacturers (Philips, Panasonic, Sony) the setting may improve image quality, but test for yourself.
Have fun watching your favorite movies and series in awesome quality.
Cheers, Daniël